$17.99
AUD
Category: Graphic Novels
In the shadows, trouble is brewing... When Starflight is stolen by his own tribe, he hopes to at least discover some of the long-held NightWing secretswhat magical powers they really have, who theyre allied with in the war, and where theyve been living all this time. But the truth about Starflights trib e is more terrible than he ever imagined: Not only do the NightWings live in a dark, miserable place, but theyve imprisoned several innocent RainWings there, too. Stranded and alone, Starflight only wants to get back to his friends. But the fate of two kingdoms now rests in his talons, and with no one to save him, Starflight will have to find a way to be brave... before its too late. ...Show more
$29.99
AUD
Category: Graphic Novels
#1 New York Times bestselling author Maggie Stiefvater (the Raven Cycle series) and artist Morgan Beem unearth the primal power of memory and how it twists the bond between two brothers.   Twins Alec and Walker Holland have a reputation around town. One is quiet and the other is the life of any party, but the two are inseparable. For their last summer before college, Alec and Walker leave the city to live with their rural cousins, where they find that the swamp holds far darker depths than they could have imagined. While Walker carves their names into the new social scene, Alec recedes into a summer-school laboratory, slowly losing himself to a deep, dark experiment. This season, both brothers must confront truths, ancient and familial, and as their lives diverge, tensions increase and dormant memories claw to the surface. Swamp Thing: Twin Branches is a story of shadows, both literal and imagined--and those that take form and haunt us. ...Show more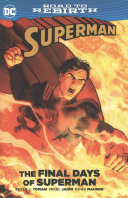 $24.99
AUD
Category: Graphic Novels
A prelude to DC UNIVERSE: REBIRTH is here in SUPERMAN: THE FINAL DAYS OF SUPERMAN Superman's body is failing him. He... is dying. With his final days upon him, the Man of Steel reaches out to his loved ones and most trusted allies to say his goodbyes. Yet while he does so, the world is greeted by new threats--a dangerous being alive with fire, who insists to Lois Lane and anyone else he meets that he is the one true Superman, and a black-clad man whose appearance and powers mirror those of Superman himself. Alongside Batman, Wonder Woman and Supergirl, the Man of Steel must fight one final battle--seemingly against himself. Will Superman die trying to save his adoptive world and those he loves most? THE FINAL DAYS OF SUPERMAN marks the beginning of an era, written by Peter J. Tomasi (SUPERMAN) and illustrated by artists Mikel Jan n (BATMAN), Doug Mahnke (SUPERMAN), Paul Pelletier (AQUAMAN), Dale Eaglesham (SECRET SIX), Scot Eaton (THE NEW 52: FUTURES END), Ed Benes (JUSTICE LEAGUE OF AMERICA) and Jorge Jim nez (EARTH 2: SOCIETY). Collects SUPERMAN #51-52, ACTION COMICS #51-52, BATMAN/SUPERMAN #31-32 and SUPERMAN/WONDER WOMAN #28-29. ...Show more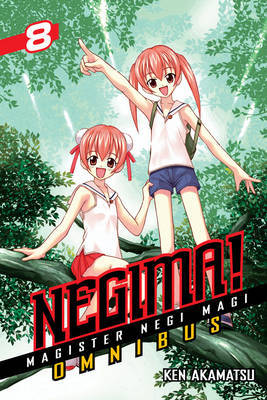 $22.99
AUD
Category: Graphic Novels | Series: Negima 3-in-1 Ser.
Negi Springfield is a teacher at an all-girl Japanese high school. He also happens to be a 10 year-old wizard with a wide variety of strange and unusual students. With every adventure they embark upon, they learn more about each other and themselves.
$26.99
AUD
Category: Graphic Novels
A brand new revised edition of the best-selling graphic novel based on the enchanting prelude to The Lord of the Rings. First published in 1990, David Wenzel's comic book adaptation of J.R.R. Tolkien's The Hobbit was an immediate success and has become one of the best-loved graphic novels of the last 20 years. The Hobbit is the story of Bilbo Baggins, a quiet and contented hobbit whose life is turned upside down when he joins the wizard Gandalf and thirteen dwarves on their quest to reclaim their stolen treasure. It is a journey fraught with danger - and in the end it is Bilbo alone who must face the guardian of this treasure, the most-dreaded dragon, Smaug. Illustrated and hand painted in full colour throughout, and accompanied by the carefully abridged text of the original novel, this handsome authorised edition will introduce new generations to a magical masterpiece - and be treasured by Hobbit fans of all ages, everywhere. This new edition has been completely re-scanned from the original paintings to achieve more accurate and vibrant colours, with David Wenzel revisiting the work to provide sensitive improvements and additions to the original edition. The book includes a magnificent and completely new cover design by Wenzel himself. ...Show more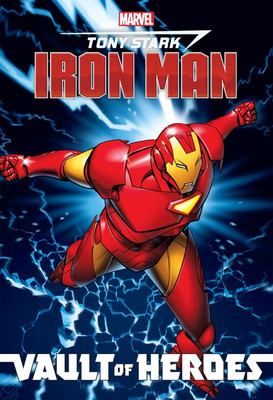 Marvel Vault of Heroes: Iron Man
by Fred Van Lente; James Cordeiro (Illustrator); Ronan Cliquet (Illustrator); Rafa Sandoval (Illustrator); Chris Giarrusso (Illustrator)
$32.99
AUD
Category: Graphic Novels
High-flying adventure-packed stories for young-readers featuring the Armored Avenger   Who is Iron Man, the world-renowned symbol of mega-conglomerate Stark International? And what terrible secret from his past forces billionaire inventor Tony Stark to become the Golden Guardian? Plus, battles with P lantman, Dr. Doom, and more. And a special story spotlighting the many armors of Iron Man and an all-new steam-powered suit   Features stories by writer Fred Van Lente and artists James Cordeiro, Ronan Cliquet, Rafa Sandoval, Chris Giarusso, and Graham Nolan. ...Show more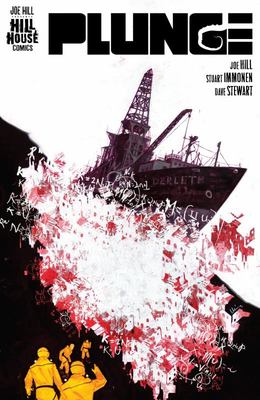 $44.99
AUD
Category: Graphic Novels
The Carpenter Salvage team, accompanied by a Marine Biologist eager to retrieve lost data and a company man looking to protect information and assets, are sent to recover what remains of the Derleth. But when they arrive and begin exploration of the ship and the island it crashed next to-they discover s omething much more menacing than they could've ever expected. There's something down in the icy darkness of the Arctic sea...something that doesn't want to be found. Unlike on land, where terror shows itself as the long-lost crew of the Derleth emerges from caves. They seem as though they haven't aged a day-it's as if they're exactly the same as the day they disappeared...except they're all missing their eyes. Will the salvage crew survive to bring their findings to shore? What danger waits for them if they fail? What dangers await us all should they succeed? ...Show more
$39.99
AUD
Category: Graphic Novels
The first volume of the graphic adaptation of Yuval Noah Harari's global phenomenon and smash Sunday Times #1 bestseller, with gorgeous full-colour illustrations and a beautiful package - the perfect gift for the curious beings in your life.One hundred thousand years ago, at least six different species of humans inhabited Earth. Yet today there is only one-homo sapiens. What happened to the others? And what may happen to us?In this first volume of the full-colour illustrated adaptation of his groundbreaking book, renowned historian Yuval Harari tells the story of humankind's creation and evolution, exploring the ways in which biology and history have defined us and enhanced our understanding of what it means to be "human". From examining the role evolving humans have played in the global ecosystem to charting the rise of empires, Sapiens challenges us to reconsider accepted beliefs, connect past developments with contemporary concerns, and view specific events within the context of larger ideas. Featuring 256 pages of full-colour illustrations and easy-to-understand text covering the first part of the full-length original edition, this adaptation of the mind-expanding book furthers the ongoing conversation as it introduces Harari's ideas to a wider new readership. ...Show more
$16.99
AUD
Category: Graphic Novels
With Batman and Robin looking out for Gotham--villains don't stand a chance! But what happens when Robin is confronted by a villain that sees past the mask? One that...recognizes him as Tim Drake! Will the Boy Wonder be able to continue crime fighting? And if he can continue on...will he be the same? B eing disillusioned to the realities of crime-fighting...will the bad guys of Gotham finally get their chance? Or will our Boy Wonder be able to snap himself out of it and get back to work! Follow along in this incredible collection of Batman and Robin as they battle against some of your love-to-hate villains like Harley Quinn, Rupert Thorne, Dagger Dixon, and more! Collects Batman- Gotham Adventures #7, Batman- Gotham Adventures #19, Batman- Gotham Adventures #29, Batman- Gotham Adventures #42, Batman- Gotham Adventures #54, Batman Adventures #9 ...Show more
$24.99
AUD
Category: Graphic Novels | Series: Alex Rider
Forcibly recruited into MI6 after the mysterious death of his guardian, fourteen-year-old Alex is sent to infiltrate the organization of sinister billionaire Darrius Sayle. Within days he's gone from schoolboy to superspy - but it looks like his first assignment may be his last.
$17.99
AUD
Category: Graphic Novels | Series: Wings of Fire Graphic
The Wings of Fire saga continues with a thrilling underwater adventure--and a mystery that will change everything... The lost heir to the SeaWing throne is going home at last. She can't believe it's finally happening. Tsunami and her fellow dragonets of destiny are journeying under the water to the gr eat SeaWing Kingdom. Stolen as an egg from the royal hatchery, Tsunami is eager to meet her future subjects and reunite with her mother, Queen Coral. But Tsunami's triumphant return doesn't go quite the way she imagined. Queen Coral welcomes her with open wings, but a mysterious assassin has been killing off the queen's heirs for years, and Tsunami may be the next target. The dragonets came to the SeaWings for protection, but this ocean hides secrets, betrayal--and perhaps even death. ...Show more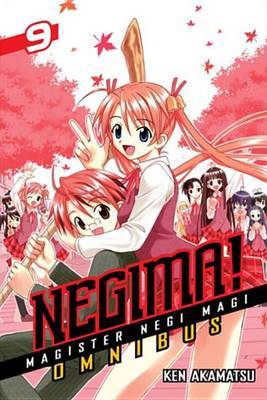 $22.99
AUD
Category: Graphic Novels | Series: Negima 3-in-1 Ser.
HIS FATHER'S SON With the plot of the insidious Cosmo Entelecheia revealed, Fate has forced Negi to choose between the safety of his friends and the destiny of the Magic World. Everyone is going to have to draw on all their strength to get out of this one, but will it be enough? Inspired by the story of his father's conquests during the war, Negi cannot fail! Contains Negima! volumes 25-26-27! ...Show more